Designer
Noa Weintraub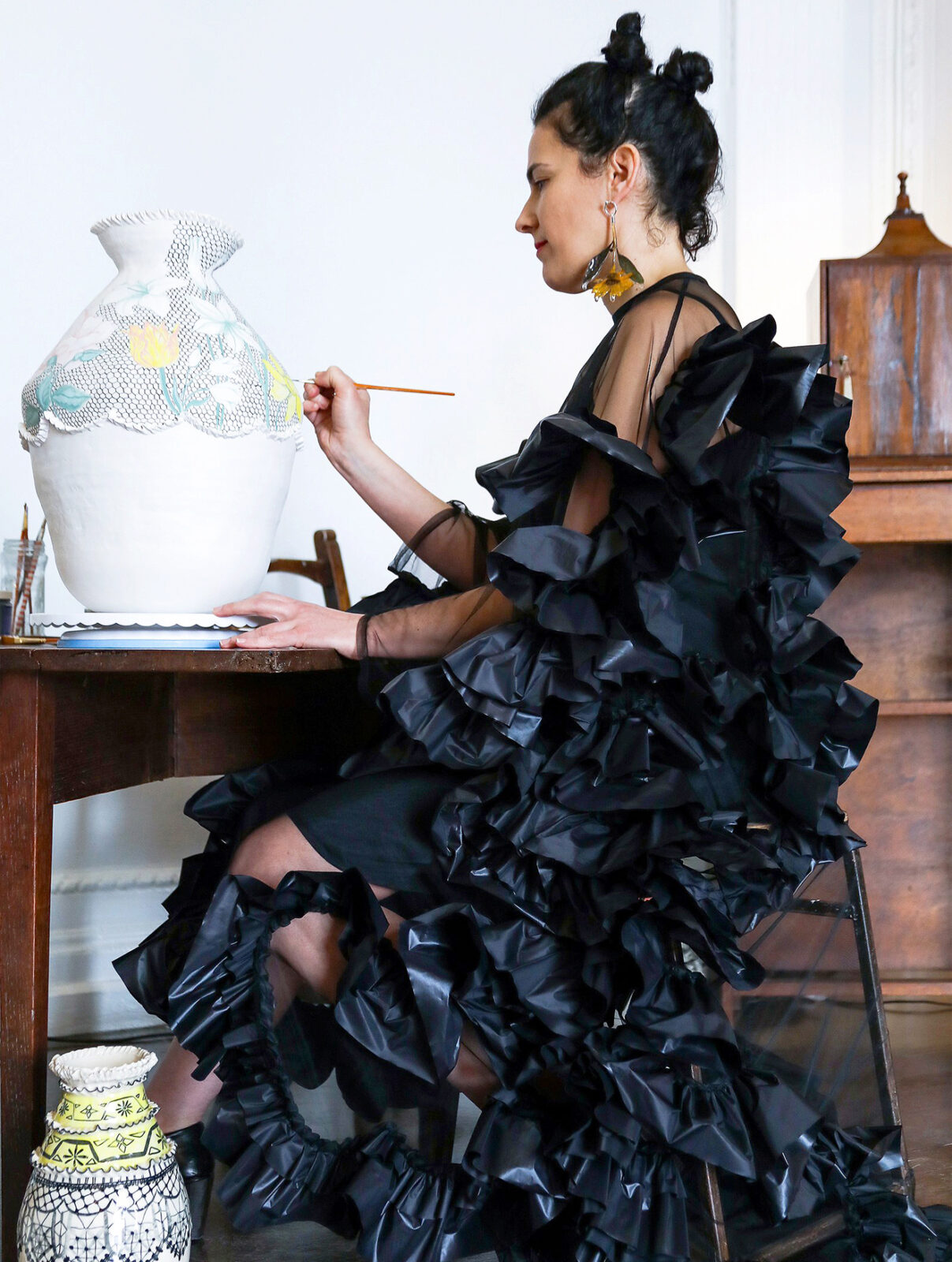 With a background in Fine Art and fashion, Noa Weintraub went on to set up her own handbag label. She later worked as a fashion stylist and worked closely with the legendary art director and designer Judy Blame. Missing drawing and painting too much, she decided to concentrate on freelance illustration. Noa later added a ceramics evening class as an additional fun string to her bow. But fun soon became the main activity and now ceramics have taken over Noa's artistic practice.

Ceramics feel the perfect match for Noa, still heavily influenced by clothes – not fashion as in the latest style but more the juxtaposition of different textures. Textures, textiles, details and patterns have been rich sources of inspiration throughout Noa's career. She often starts with a little drawing in a sketchbook. Imagery ranging from wallpaper to details of dresses, vintage ceramic pieces and cakes ! Noa loves an eclectic mix.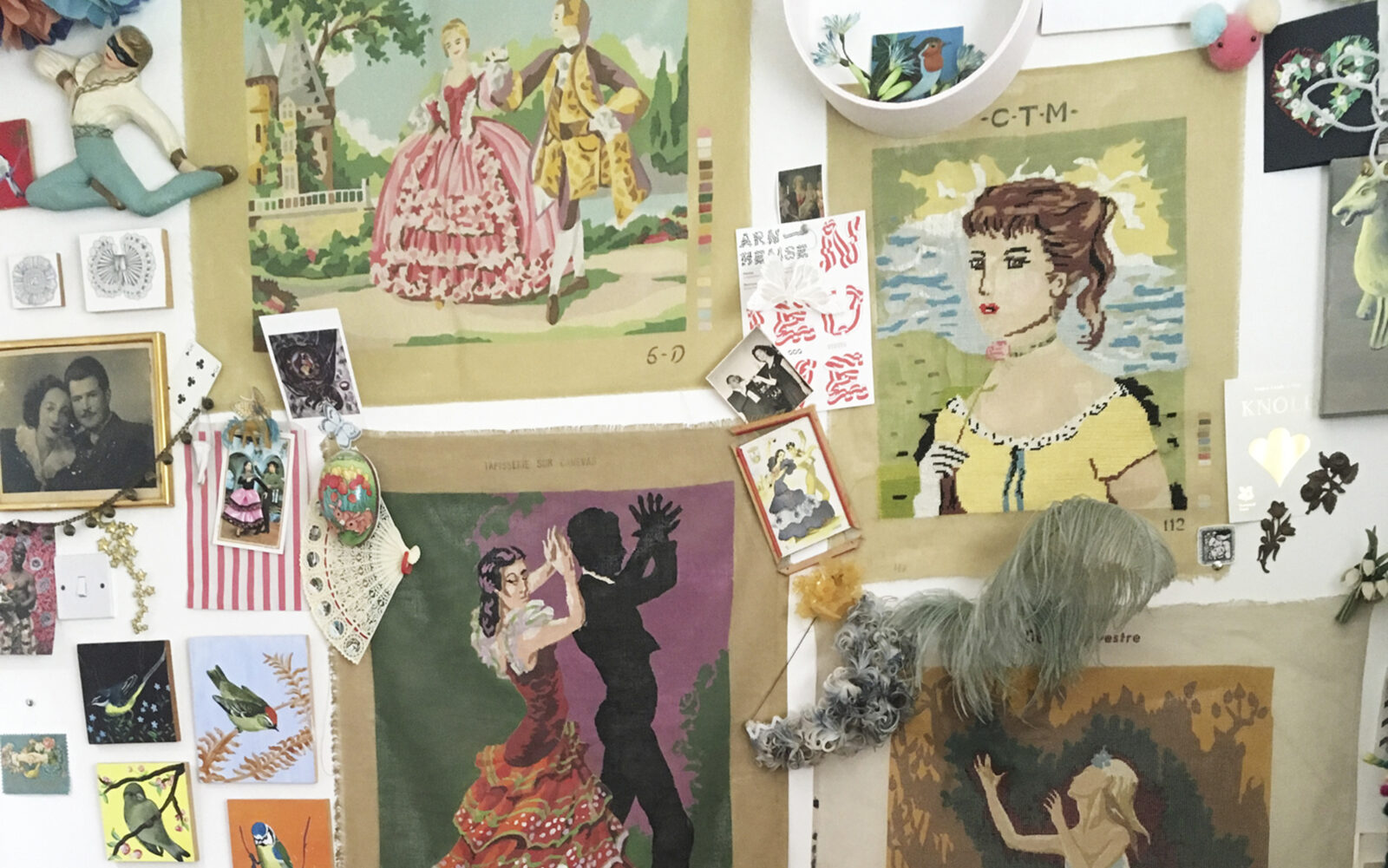 Making ceramics is a long process that involves waiting for the clay to dry, and then firing it twice in a kiln. All the pieces are handmade in her London studio, using the pinching or coiling method and moulds for her functional tableware. In terms of shape, Noa Weintraub either sticks to a specific design or lets the clay dictate her work. "I always feel the clay knows what it wants and it's nice to let go and just go with the flow - then there is an element of surprise!". Before the glaze firing comes the decoration stage. There's nothing more exciting than opening a kiln when everything is done: "The anticipation and element of surprise is huge - you never quite know what you're going to get, it's a little bit of magic!"

Although Noa creates ceramics, a lot a painting is involved in her art. The starting point of each pattern depicted is an old Master's portrait of a female sitter. Conscious of the reference to traditional female activities such as lace making, cake decoration and baking, Noa is interested in women's roles and place in society. Her ceramic practice questions what we regard as female activities and as feminine. It is, as she says, "a nod to women not being as delicate and ornamental as they may appear or be perceived".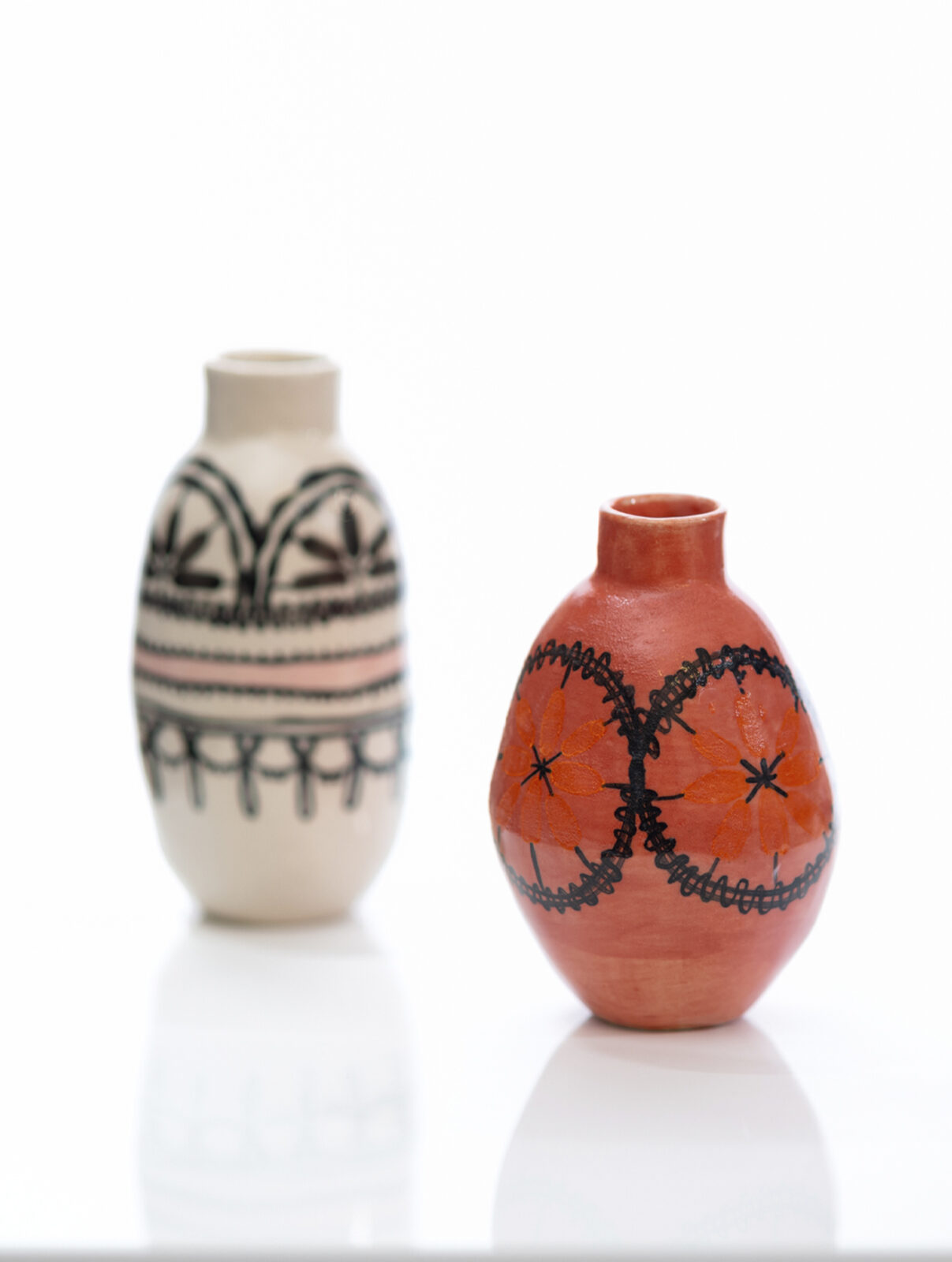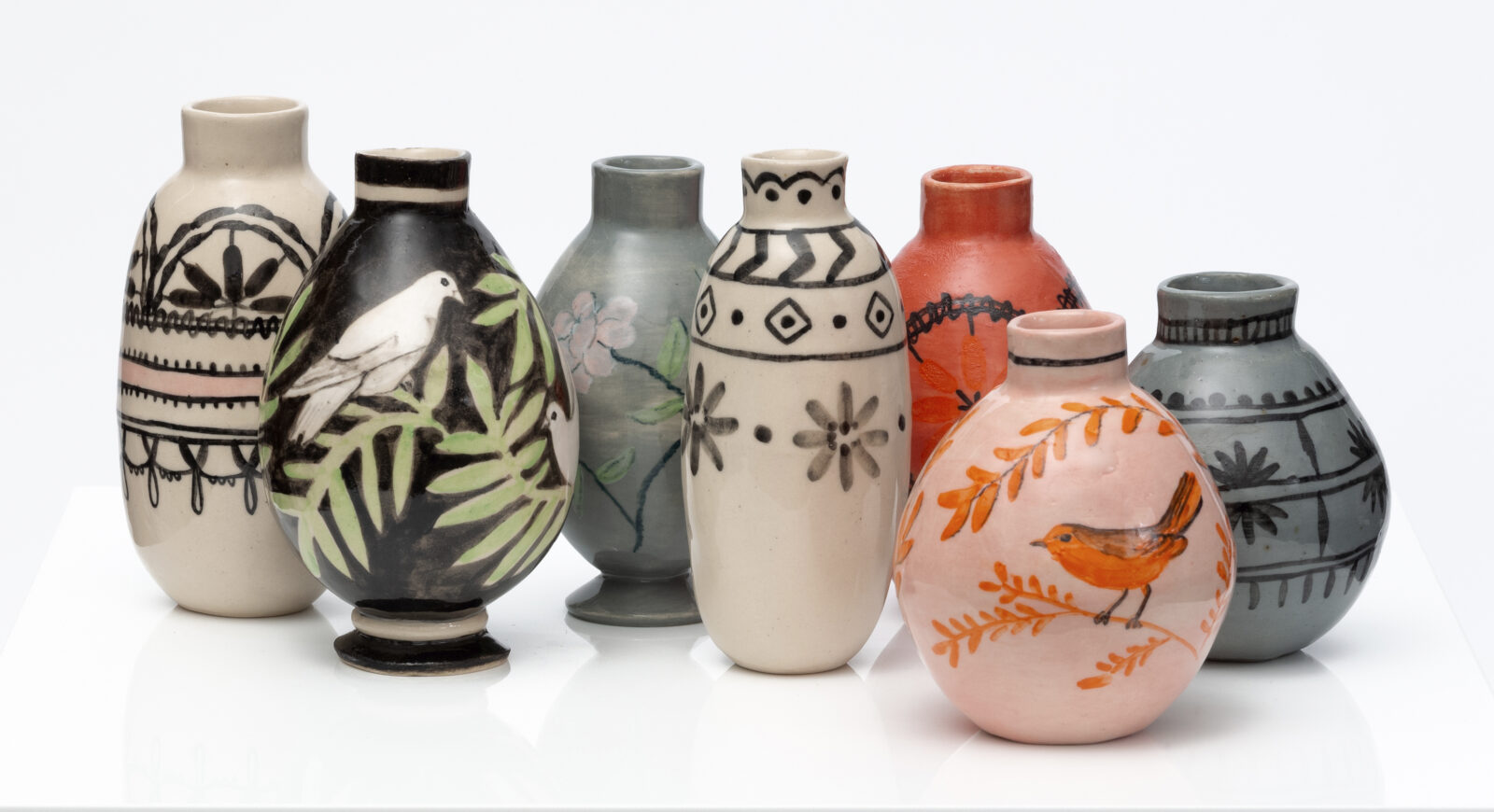 Her large vessels are elaborately decorated with hand-painted designs featuring a detail of lace, crochet, collar, flowers. The intricate surface of lace symbolizes piety but also tease – a fascinating double meaning. The flowers represent coded communication through different types of blooms (floriography). Noa pushes these ideas further. She embellishes her vessels with frills and heavily decorating them with the painted lace designs, which allows for the ephemeral icing and fragile lace to be preserved.

Noa Weintraub just created a limited and exclusive series of seven mini pots for Objet d'Emotion. Noa and Valery met a few years ago at a ceramic class in East London and became friends since. Valery loved Noa's creations right away. Collaborating felt natural: "We discussed a series of seven for Objet d'Emotion with birds and flowers, we selected colors and motifs."

The mini pots are crafted from stoneware clay and transparent glaze are 'bite size' versions of the larger pieces. Instead of going bigger and bigger, Noa is currently going smaller and smaller. Blush pink with tangerine bird mini pot, Paloma black and green mini pot, Poppy red and tangerine lace mini pot… as poetic as their names, the mini pots are like little jewels or Faberge eggs. They fit perfectly in the palm of your hand and are a reminder to enjoy the little things in life. Precious little moments of joy that can alter a day's mood.