Designer
Melanie Georgacopoulos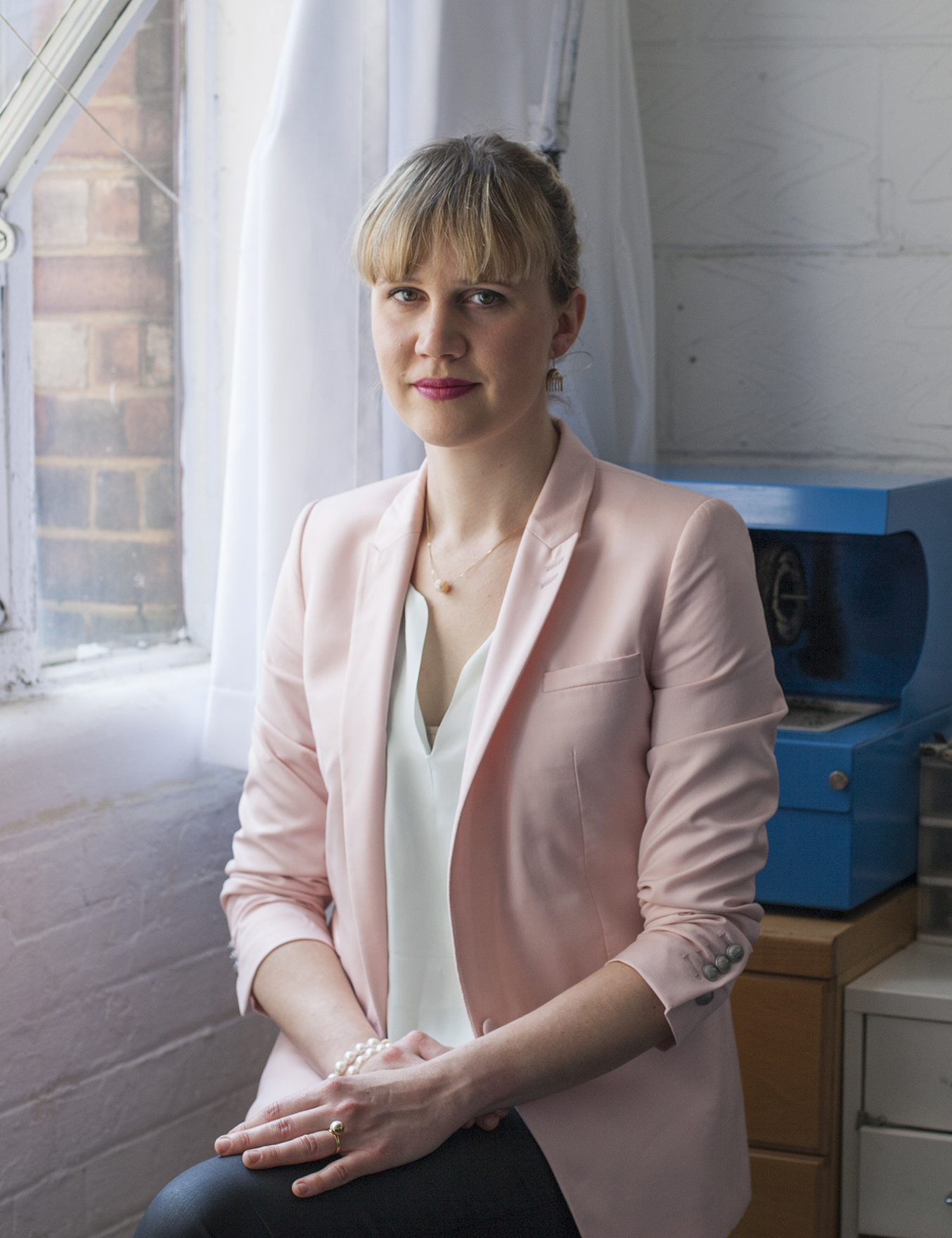 Melanie's work explores all facets of the pearl. She continually strives to challenge the existing preconceptions of these organic materials and that of traditional jewellery design itself.

Our Founder Valery first met Melanie at the Royal College of Art, where her experiments with pearls led her to create sliced pearl necklaces, revealing the rings of the pearl as it grows – much like a tree.

For Valery, this was a revelation in fine jewellery. Melanie had taken a material that was considered old-fashioned, and often associated with conservatism, challenging its form and function; giving it a new place in contemporary jewellery. Melanie was at the forefront of a movement which made the pearl fashionable once again.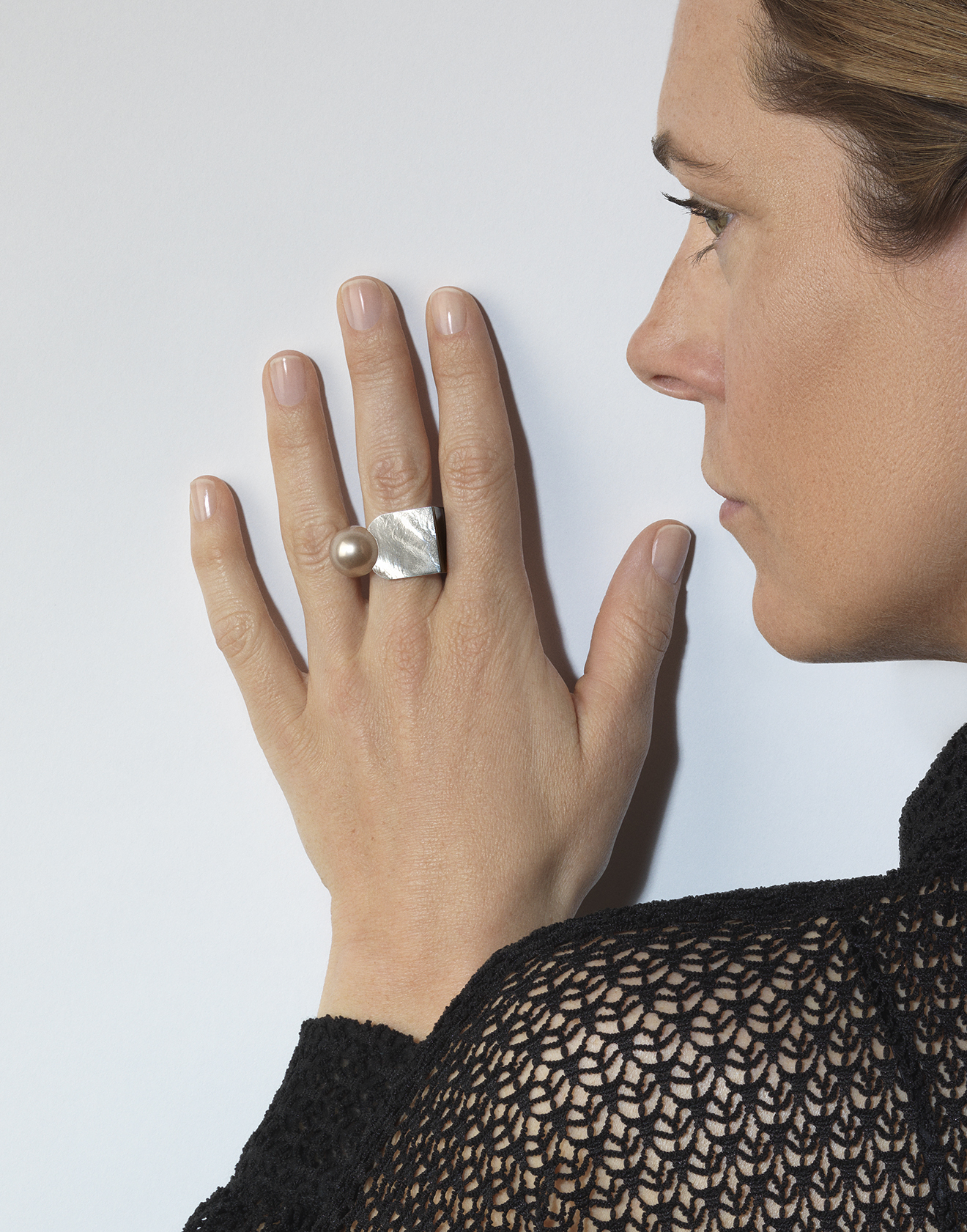 By exploring new jewellery shapes Melanie questions which elements form a successful jewellery piece, whilst also examining our belief of what pearl jewellery should be.

In her Couture pieces Melanie recreates cut stones as golden cages, decorated with diamonds, cradling pure white pearls. Contrasting the purity of the pearl delivered by nature in all its beauty with the rawness of an uncut diamond transformed by the human hand into sharp sparkling forms.

In a natural evolution, her exploration of the world of the pearl led the designer to experiment with mother of pearl. A material so close yet so different in the way it can be used.

The largest piece from her Nacre collection - a tile necklace acts as a metaphor for gradual transition. White South Sea pearls appear to sink into the mother of pearl gradually, it is as if the pearls are returned to their natural home close to the shell. Melanie's nacre rings use flat segments of mother of pearl to create graphic shapes, whilst pearls act as a closure holding the rings to the finger. Using flat tiles of mother of pearl to create her graphic forms allows Melanie to celebrate its natural lustre within her minimalist designs.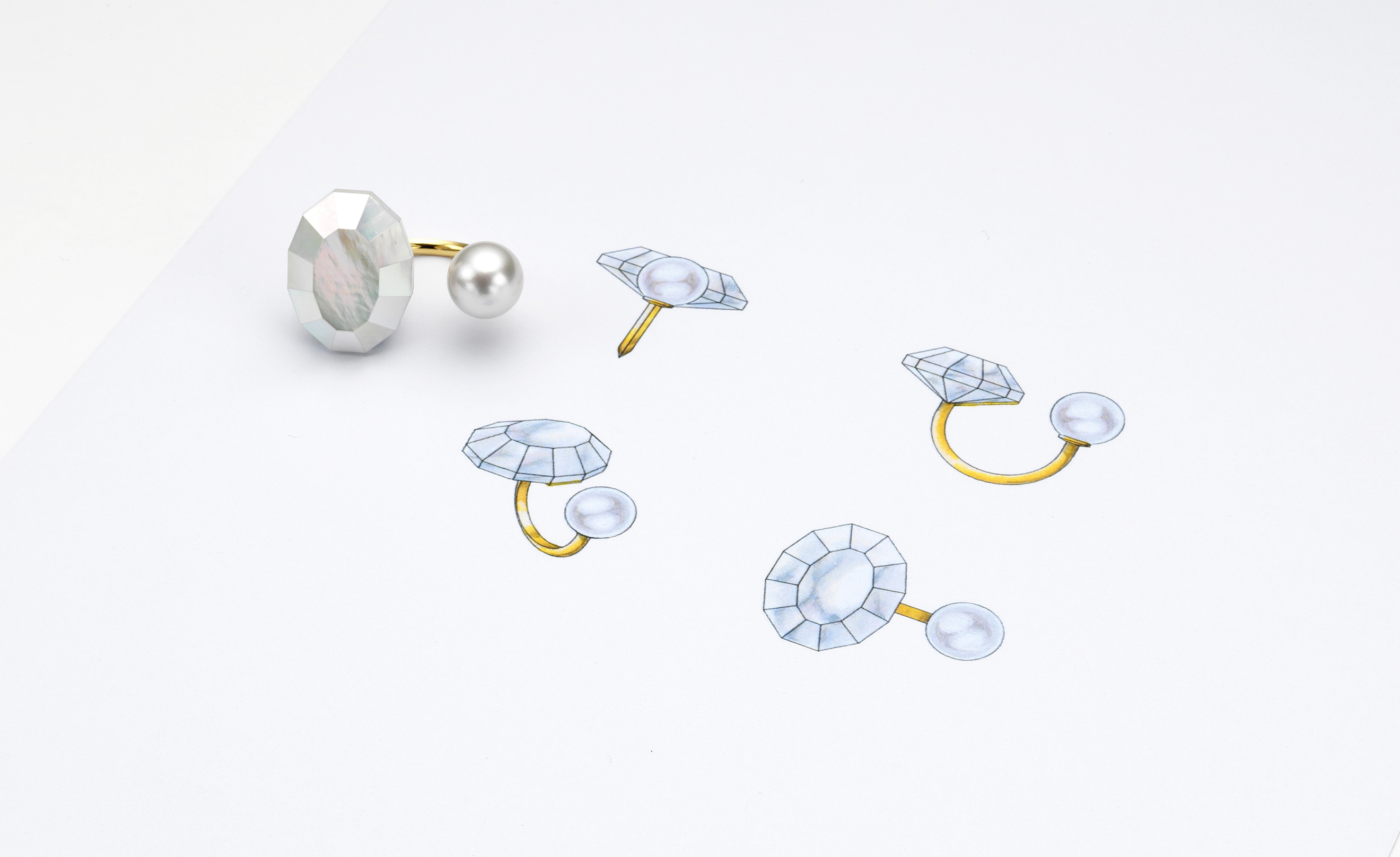 In her Facets pieces, Melanie creates seamless three dimensional forms that mimic popular diamond cuts using a marquetry technique. The ambiguous forms push Melanie's exploration of the relationship between gemstones and pearls in contemporary jewellery. The collection aims to shine new light on this humble material, and its many rich, jewel-like qualities.

Melanie is known for pushing boundaries and existing preconceptions. Since her graduation from the RCA, she has continued to challenge conventional use of pearls, covering them in gold, piercing them with polka dots, faceting pearls and exploring contemporary use of mother of pearl.

Constantly defying convention, Melanie brings the pearl to the domains of art and high fashion, whilst retaining its quality as a wearable accessory. Appointed Head Designer for one of the world's biggest pearl houses, Melanie continues to create her own collections for private clients.