Designer
Frances Priest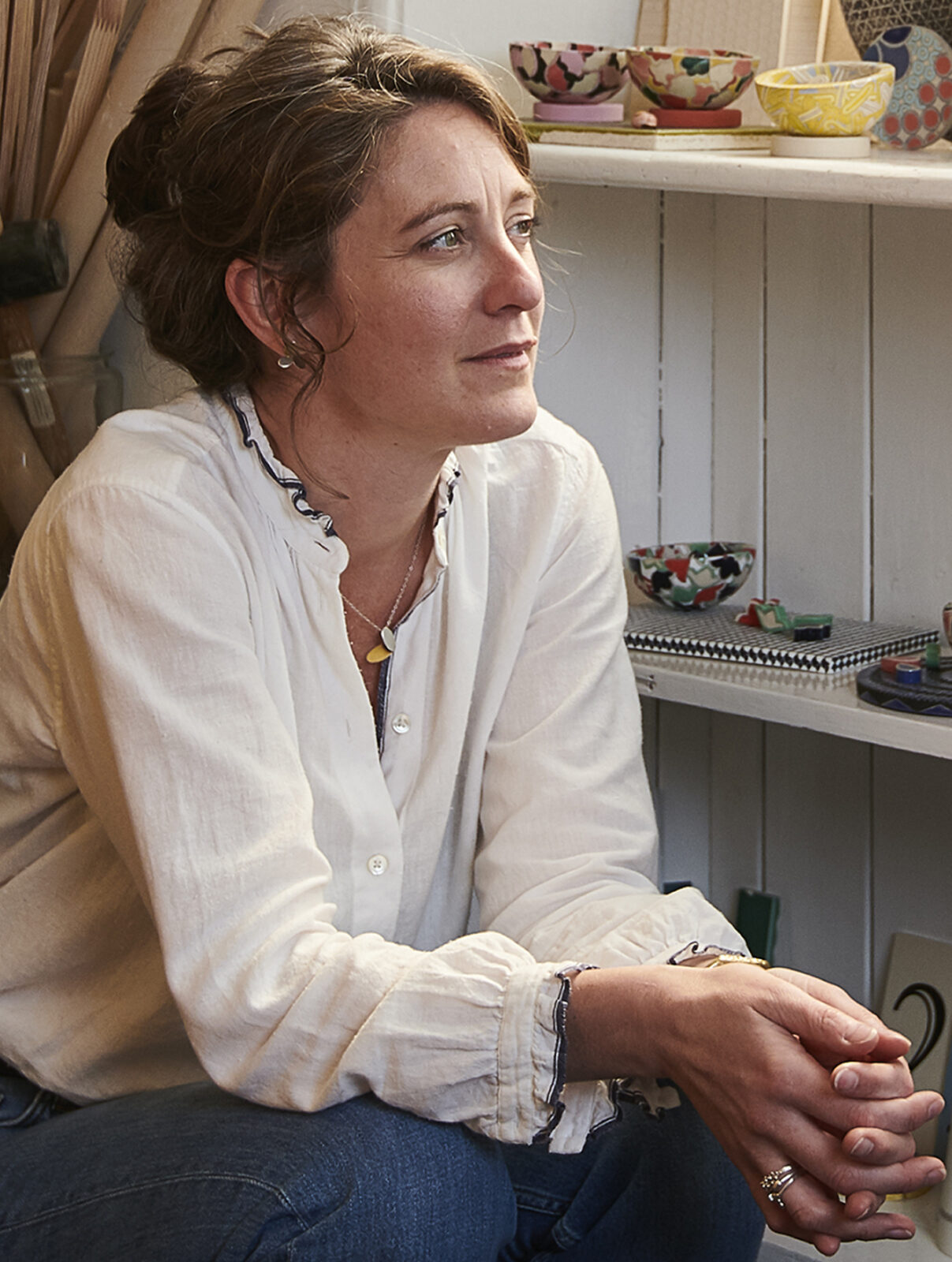 Graduating from Edinburgh College of Art with a BA & PGDip in Ceramics, Frances Priest has established a recognised studio practice in this field. She is fascinated by the ever-changing interpretations of ornamental motifs as they move between drawing and material form. Her art reflects upon interwoven elements of place and community through ornately inscribed and intricately glazed ceramic objects.

Frances works from her studio in Edinburgh. Her designs are held in private collections and exhibited publicly across the United Kingdom, including the Fitzwilliam Museum and the V&A. She works on permanently sited projects, residencies, biennales and design commissions. Her work has also featured at the European Ceramic Context, British Ceramics Biennale and Homo Faber 2019.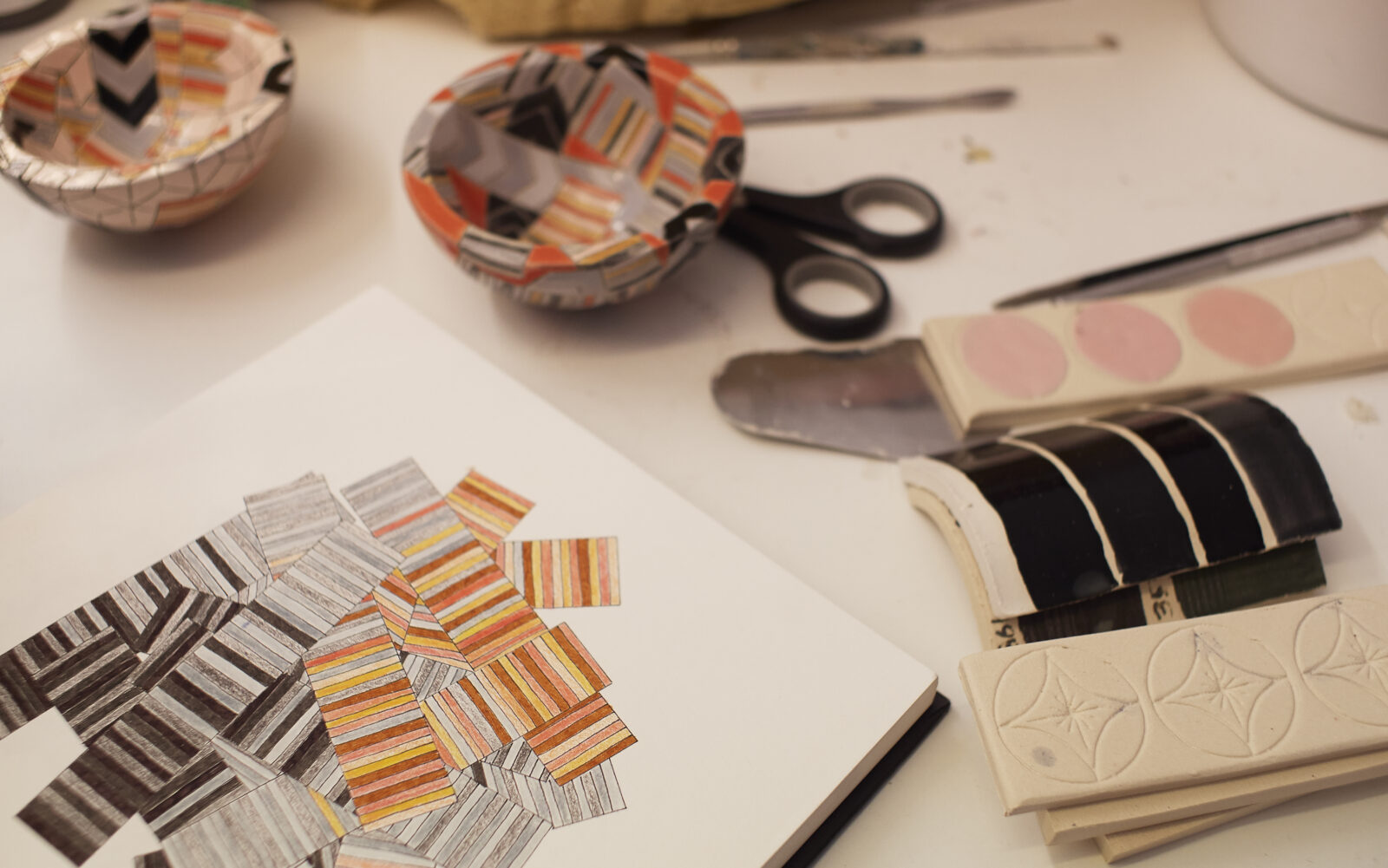 In 2019, Frances created a limited series of objects exclusively for Objet d'Emotion. Here's what Frances has to say about this fruitful collaboration: "The surface pattern designs reflect my dialogue with Valery Demure, collaging together a collection of ornamental motifs, chevron, stripes and Asanoha. They have all previously featured in my work. It has been exciting to respond to the Objet d'Emotion colour palette, pushing it in a very bold direction to highlight tones of the rich coral and ochre, contrasted against the soft grey and dense black." Think of the collection as a whole and it offers up the possibility of different compositions and relationships between the group. Think of each piece as a unique design and it stands alone perfectly.

Frances Priest likes to work with simple bold forms. They provide a strong canvas on which to draw surface patterns. "I have especially enjoyed playing with the surface finish of the black and grey, placing matt vitreous slip and glossy glaze together to create a glint and sparkle as the works catch the light" says Priest. Her collection for Objet d'Emotion references vase and drum shapes that feel both sculptural and domestic. The works are hollow and each piece has a tiny hole in the centre. An intriguing yet essential detail. Not only does it allow for air to escape during the firing process, it also highlights the forms being made out of skin pattern.




France's pieces are crafted from a white firing hand-building clay body. She first makes sections using hand building techniques, coiling and moulds. Frances pieces them together. Shen then pairs the rough form back into a refined shape with metal tools called kidneys. For a perfect final touch, she smooths the form's surface into a perfect canvas ready to be drawn onto. This is when Frances takes her 10A scalpel blade and incises lines into then surface of the clay, adding freehand details. Once the drawing is complete, the work is left to slowly dry for two weeks.

Frances gently polishes her piece with a diamond pad. She then paints the form in an oxide wash which highlights the line drawing. Our artist adds colourful touches is added though a combination of glaze and vitreous slips which gives a variety of surface finishes from high gloss though to flat mat. Frances builds up layers of colours using fine brushes. After the final glaze firing, Frances sometimes adds a final layer of drawing as enamel decals. These are made from sheets of her drawings, digitally printed in enamel. She applies them the surface of the glazed work. The works are then put through a low temperature firing: the enamel fuses to the surface of the glaze. Depending on the scale, an object can take up to one month to complete.